Clauses for Terms & Conditions to work in our Projects / Products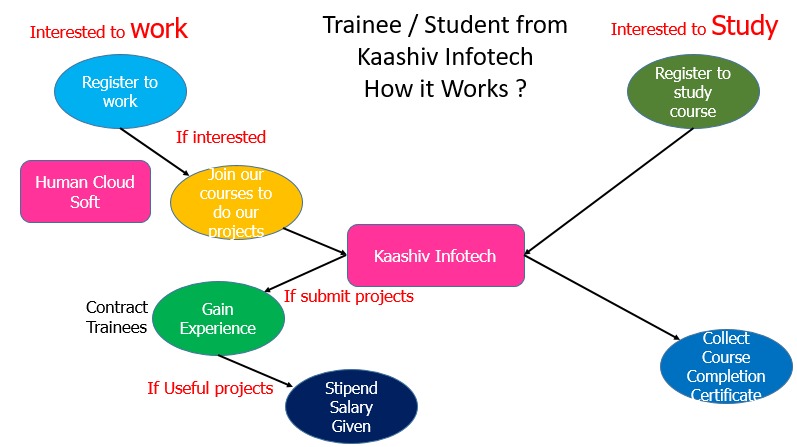 Above listed projects were part of our Dream projects. If you are interested to work in our products, Do register in our Human Cloud Soft Development division – Part of Kaashiv Infotech Company Development Division ( No Charges to work in our company ). This registration is free of cost. Registration URL : https://www.humancloudsoft.com/trainee/trainee-register Registered candidates are not mandatory to work in our company. This is purely willing basis. Registration is mandatory to confirm your employment in our company.
If you interested to learn from our company, You can enroll into our courses via https://kaashiv.com/register or meet directly at our Chennai Office and you can enroll into your dream courses and build your profile. Course fees needs to be paid for training.
 Trainees / Students can learn, work in parallel to gain experience and submit our dream projects. Students enrolling in our courses were not mandatory to work. This is purely based on willing basis.
If the projects are acceptable, Students/Trainees works were considered as Experience in our company. They are eligible for experience letters in our company (Human Cloud Soft Previously Kaashiv Infotech)
If the projects are worth, If the company preferred to pay stipend salary. We can offer stipend salary for 3 months max.
Trainees/Interns must do all the changes requested by the company relevant to the projects.
To work in our projects, No registration fee or any other fees collected from our company.
No job placement given by the company. Trainees can work and get benefitted. Search for job by their own.
Stipend/Salary will be given Cash in Hand for the Contract Trainees.
Students register only for course can collect your Course Completion Certificate by the end of the course.